Presidential Scholars Weekend
Mercer University extends this invitation to only the most talented first-year applicants. During this invitation-only scholarship event, you will interview with faculty, staff, and alumni; participate in academic experiences; and tour Mercer's historic Macon campus.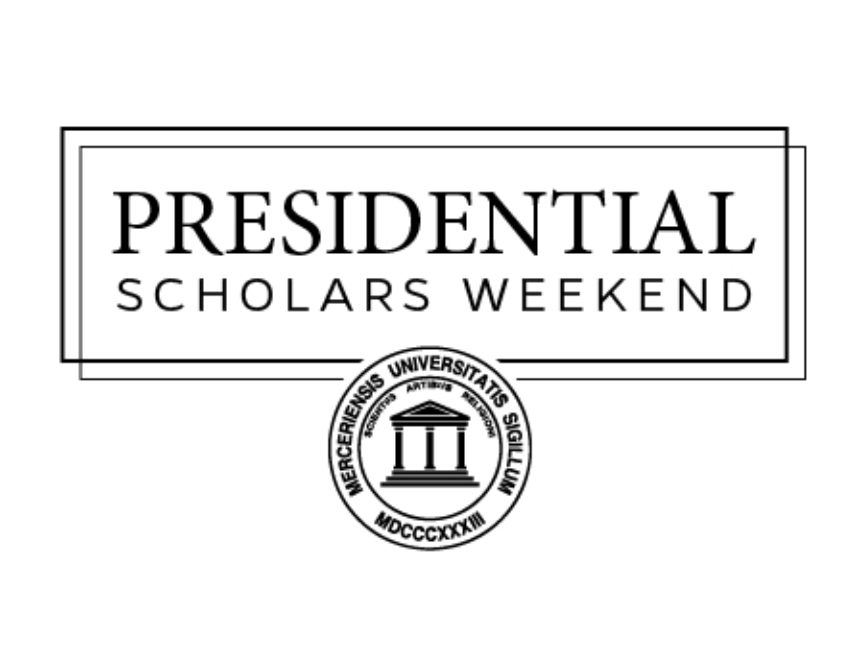 Registration Information
Choose Your Preference
Students may choose between two options for participation. These options offer the same experience but give students the opportunity to register for their preferred interview day.
Register for one event only.
If you need to change your registration date, contact Jordan Hiatt at hiatt_jm@mercer.edu.
We will not be able to change registration dates within two weeks of the event.
Frequently Asked Questions
Who is eligible to attend?
Mercer University extends invitations to the most talented first-year applicants. Eligible students will receive an email invitation and print invitation in the mail with instructions on how to register.
What should I wear?
You will be interviewing with current faculty and professionals, so business attire is recommended for this event.
What is the difference between the two event options?
We are offering two different options to better accommodate all of our students' various commitments and schedules. The interviews, classroom experiences, and opportunities to meet faculty and administrators will be the same at each. The only difference is the structure of the schedules and the date of the interview.
How should I prepare?
In addition to getting a good night's sleep and eating a healthy breakfast, we encourage you to be yourself. Be prepared to discuss your passions, achievements, and future goals. As a reminder, you must submit the Future Mercerian Scholarship Application by Friday, January 27, to be considered for scholarships.
Should I bring anything with me?
Plan to bring any personal items that you normally carry throughout the day. We will provide you with materials that you can use to take notes.
Can I bring guests?
Each student may bring two guests, such as parents or guardians.
When will I find out my interview time?
We will provide your interview time in your registration packet when you check in for the event.
Can I request a specific interview time?
If you have schedule conflicts that require a particular interview time, you may email Jordan Hiatt at
hiatt_jm@mercer.edu
to request a specific time. Please note that this request is not guaranteed.
When will I receive my scholarship results?
You can expect to receive results from the weekend within 3-4 weeks after the event. You will receive official notification via a mailed letter.
What kind of scholarships are awarded?
Students have the opportunity to increase their merit scholarship award, ranging up to full tuition. There are a limited number of full-tuition scholarships.
Does this scholarship stack on top of the one I've already received from Mercer?
Yes, this scholarship will stack on top of the initial merit scholarship offer you have already received from Mercer unless otherwise noted.
Are these scholarship offers binding?
No. However, we do ask that you check in with your admissions counselor to accept or decline your scholarship offer. If you choose to accept it, your enrollment deposit is due by May 1 to secure your spot in our incoming class.
Will I get to meet faculty?
Yes – throughout the day and during your interview, you will have the opportunity to speak with current faculty, students, and staff from the University.
Will there be lunch?
Yes, we will provide a complimentary lunch for you and your guest.
Where should I park?
Parking will vary for each event, so check your email leading up to the event for detailed parking information. Also, when you arrive on campus, our student staff will direct you to your parking destination.
Where can I stay in Macon?
We have a list of recommended hotels for our guests.