Presidential Scholars Weekend
Mercer University extends this invitation to only the most talented first-year applicants. During this invitation-only scholarship event, you will interview with faculty, staff, and alumni; participate in academic experiences; and tour Mercer's historic Macon campus.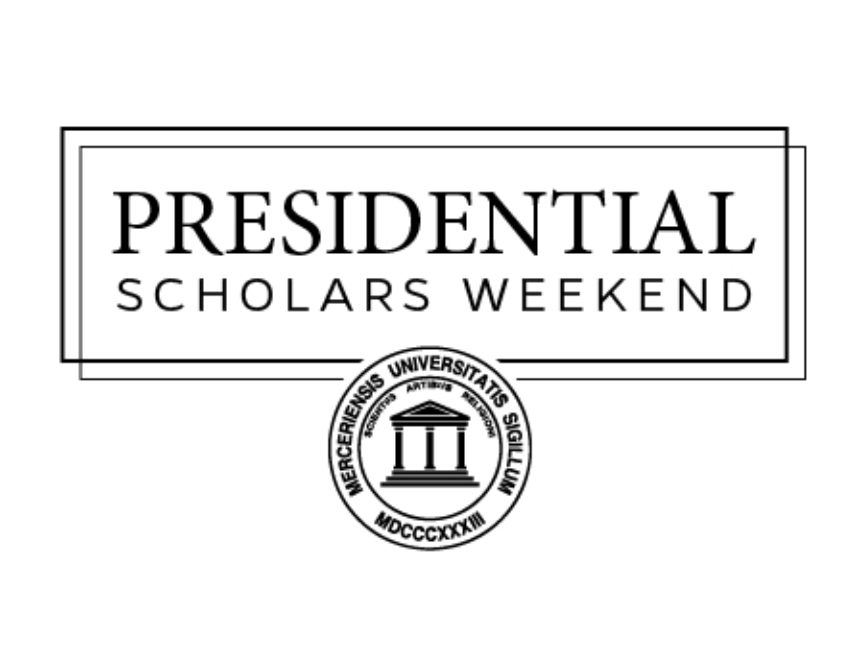 Registration Information
Choose Your Preference
Students may choose between two options for participation. These options offer the same experience but give students the opportunity to register for their preferred interview day. Register by Thursday, January 20, 2022.
Register for one event only.
If you need to change your registration date, contact Jordan Hiatt at hiatt_jm@mercer.edu.
We will not be able to change registration dates within two weeks of the event.
Submit Your
Presidential Scholars Weekend Essay
Every student is required to submit a 400-500 word essay in response to one of the prompts below for scholarship consideration through your Mercer application portal by Thursday, January 20, at 11:59 p.m.
1. Mercer University values study abroad as an important part of higher education and offers two main avenues for students to participate: Mercer On Mission and International Study Abroad Programs. Looking at one or both of these websites, please write about an issue, unmet need, or academic discipline that you would like to engage through Mercer On Mission or International Study Abroad Programs and describe why it interests you.
2. Mercer students have the opportunity to choose from two tracks to fulfill general education requirements. The Great Books Program challenges students to increase their critical thinking and writing skills through the study and discussion of classic texts by the greatest thinkers of the Western world. The Integrative Curriculum, aims to help students understand themselves and others, engage the community, and tackle the challenges of living in a deeply interconnected world. Using the websites linked for reference, tell us which program interests you the most, why it appeals to you, and how it would help you achieve your future goals.
3. Undergraduate student research is a hallmark of Mercer University's educational experience. Read about student research projects or catch up on the University's latest research news. If you were going to design an independent research project, what topic would you address and what benefits would it offer the world around you?
COVID-19 Protocols
Note: Following guidance from the Centers for Disease Control and Prevention (CDC), masks will be required for all campus visitors while indoors, regardless of vaccination status. Please bring masks with you for you and your guest. The Presidential Scholars Weekend is currently limited to one student and one guest per family.
Frequently Asked Questions
Who is eligible to attend?
Mercer University extends invitations to the most talented first-year applicants. Eligible students will receive an email invitation and print invitation in the mail with instructions on how to register.
What should I wear?
You will be interviewing with current faculty and professionals, so business attire is recommended for this event. Please bring masks for you and your guest.
What is the difference between the two event options?
We are offering two different options to better accommodate all of our students' various commitments and schedules. The interviews, classroom experiences, and opportunities to meet faculty and administrators will be the same at each. The only difference is the structure of the schedules and the date of the interview.
How should I prepare?
In addition to getting a good night's sleep and eating a healthy breakfast, we encourage you to be yourself. Be prepared to discuss your passions, achievements, and future goals.
Should I bring anything with me?
Plan to bring any personal items that you normally carry throughout the day, including a face mask for you and your guest. We will provide you with materials that you can use to take notes.
Can I bring guests?
Each student may bring one guest, such as a parent or guardian.
When will I find out my interview time?
We will provide your interview time in your registration packet when you check in for the event.
Can I request a specific interview time?
If you have schedule conflicts that require a particular interview time, you may email Jordan Hiatt at
hiatt_jm@mercer.edu
to request a specific time. Please note that this request is not guaranteed.
When will I receive my scholarship results?
You can expect to receive results from the weekend within 3-4 weeks after the event. You will receive official notification via a mailed letter.
What kind of scholarships are awarded?
Students have the opportunity to increase their merit scholarship award, ranging up to full tuition. There are a limited number of full-tuition scholarships.
Does this scholarship stack on top of the one I've already received from Mercer?
This scholarship will replace any merit scholarship offer you have already received from Mercer.
Are these scholarship offers binding?
No. However, we do ask that you check in with your admissions counselor to accept or decline your scholarship offer. If you choose to accept it, your enrollment deposit is due by May 1 to secure your spot in our incoming class.
Will I get to meet faculty?
Yes – throughout the day and during your interview, you will have the opportunity to speak with current faculty, students, and staff from the University.
Will there be lunch?
Yes, we will provide a complimentary lunch for you and your guests.
Where should I park?
Parking will vary for each event, so check your email leading up to the event for detailed parking information. Also, when you arrive on campus, our student staff will direct you to your parking destination.
Where can I stay in Macon?
We have a list of recommended hotels for our guests.