Visit Mercer
The Office of University Admissions will begin offering in-person campus tours on Monday, June 15. To help protect the health of our students, faculty, staff, and visitors, we have implemented enhanced cleaning and sanitizing of campus facilities along with a number of new operating procedures, and we will continue to offer alternative virtual visit opportunities. We are fully committed to serving you and your family in the days ahead.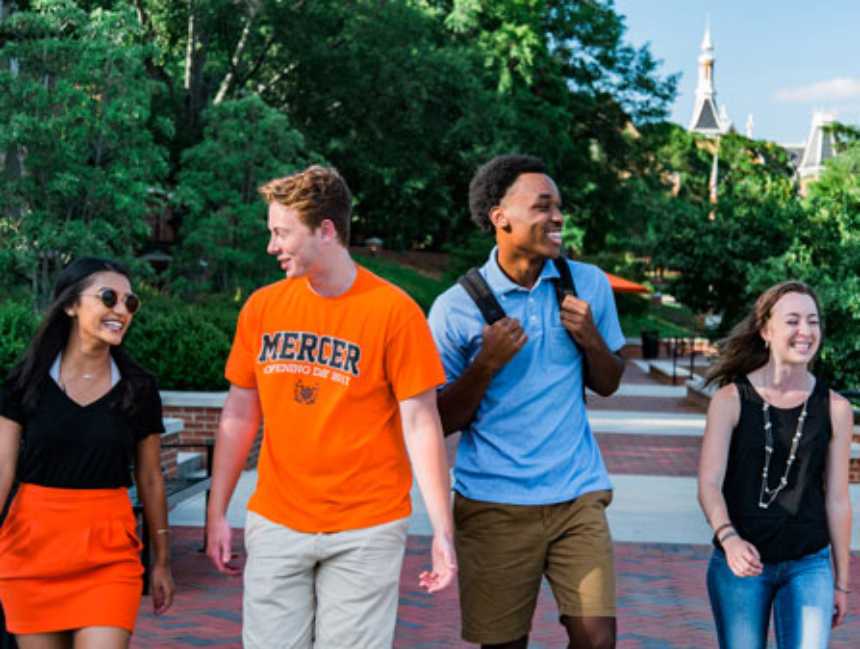 Discover Mercer Virtually
Get a Preview of Bear Territory

Value of a Mercer Education
A Mercer degree is an important investment in your future, and we are committed to your academic success. During this presentation, we will discuss financial aid, academics, and more.
July 13 | 4:00 p.m.
For Parents and Families of Accepted Students

Parent and Family Q&A Webinar
Join us online for a webinar specific for parents to learn more about your student's next steps in the admissions and enrollment process. Ask questions and learn about upcoming deadlines and what to expect as your student prepares to join Mercer's newest incoming class.
July 16 | 12:00 p.m.
For All Students

Bands, Beats, and Bears: Oh My
Learn more about Mercer's Athletic and Ensemble Bands and hear about what makes Mercer's Instrumental Programs such an important part of Bear Nation.
July 14 | 3:00 p.m.
For Juniors and Senior Applicants

Preparing for your College Search Process
Specifically for high school juniors, join us to discuss the admissions process, financial aid opportunities, and more.
July 23 | 2:00 p.m.

Transfer Next Steps Webinar
Join us online for a live information session led by our admissions staff to discuss your next steps as a transfer student at Mercer University.
July 15 | 4:00 p.m.
SPECIAL VISITATION DAYS
An In-Depth Look at Life as a Mercer Bear