Visit Mercer
In response to the coronavirus (COVID-19) and to minimize the health and safety risk to our campus community and visitors, we are postponing all campus visits currently scheduled through Friday, June 12. We understand the important role that campus visits play in your college search process, and we are offering alternative virtual visit opportunities during this time. We are fully committed to serving you and your family in the days ahead.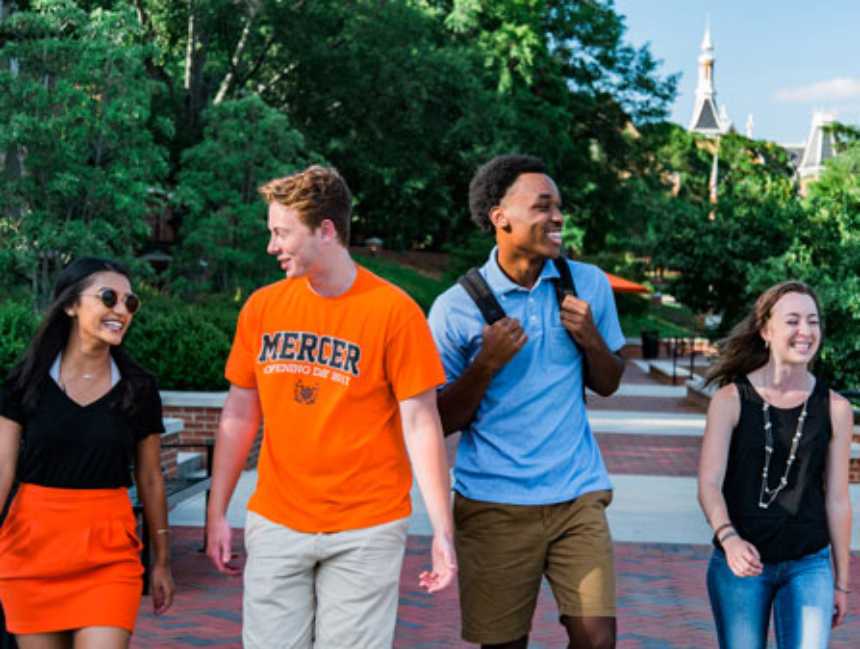 Discover Mercer Virtually
Get a Preview of Bear Territory

Virtual Campus Tours
Available Monday through Friday at 10:00 a.m. and 1:00 p.m., our daily tour webinar includes a live, counselor-led information session featuring an overview of Mercer, the admissions process, academics, student life, and financial aid, followed by an interactive virtual tour of campus. The session will conclude with a live Q&A with an admissions counselor.

Virtual Student Lunch
Available Monday through Friday at 12:00 p.m., join our live virtual student forum on your lunch hour. During this time, current students are available to answer both prospective and admitted student questions regarding life as a first-year student, how to choose a major, how to get involved on campus, and more.
For Accepted Students

Next Steps
Join us to discuss your next steps as you prepare to join Mercer's next incoming class.
May 26 | 5:00 p.m.

Mercer Abroad
Mercer Abroad is an integral part of your college experience. Whether you are interested in spending a semester or year independently abroad on an exchange program, or you simply want to enhance one of your courses with a one-week travel experience with your trusted teacher, the opportunities to learn and grow through study abroad exist!
May 28 | 2:00 p.m.
For Juniors and Senior Applicants

Applying to Mercer
Do you have questions about applying to Mercer? During this presentation, we will discuss navigating the admissions process with Mercer University.
May 27 | 4:00 p.m.
For Transfer Students

Transfer Student Webinar
Join us as we discuss the admissions and financial aid process for transfer students. This presentation will highlight the resources and benefits Mercer provides to transfer students.
May 27 | 4:00 p.m.
SPECIAL VISITATION DAYS
An In-Depth Look at Life as a Mercer Bear