Letter to My High School Self
Senior year is full of memories that you will cherish for the rest of your life. It's a time to remember how the past four years have impacted your life. It's an opportunity to thank those who have shaped your character—your family, friends, teachers, coaches, and other loved ones. It's a season to plan for the future.
For our graduating Mercerians, the next step might be starting graduate school, completing an internship, or landing their dream job. For you, it's becoming a Mercer Bear. Mercer is a place for you to grow, thrive, and discover your potential. To meet new people. To challenge yourself to be the best you can be. Get ready…because the next four years are going to be your most transformative yet.
Take advice from three Mercer seniors as they write letters to their high school selves and and offer words of wisdom about the transition from high school to college.
Senior Reflections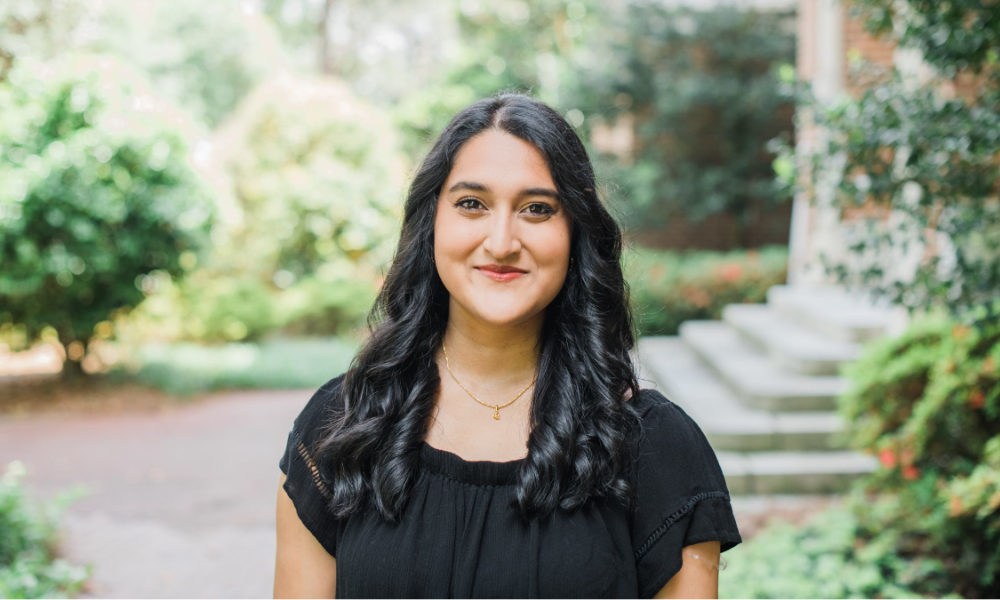 PARNEETA MOHAPATRA
Major: Global Health Studies and Spanish
Involvement: Academic Resource Center Lab Assistant, Alpha Epsilon Delta, Biology Research with Dr. Sahar Hasim, Global Health in Action newsletter, and Honor Council Associate Justice
Plans after graduation: I'll be working with Blue Ridge Health Service in Hendersonville, North Carolina, as part of the MedServe fellowship. After completing the fellowship, I hope to pursue an MD/MPH dual degree program. My goal is to work as a physician, but also do nonprofit work in community health to bridge disparities.
"Don't be afraid to take a leap of faith because you have a community of people to catch you if you fall."
Letter to High School Parneeta: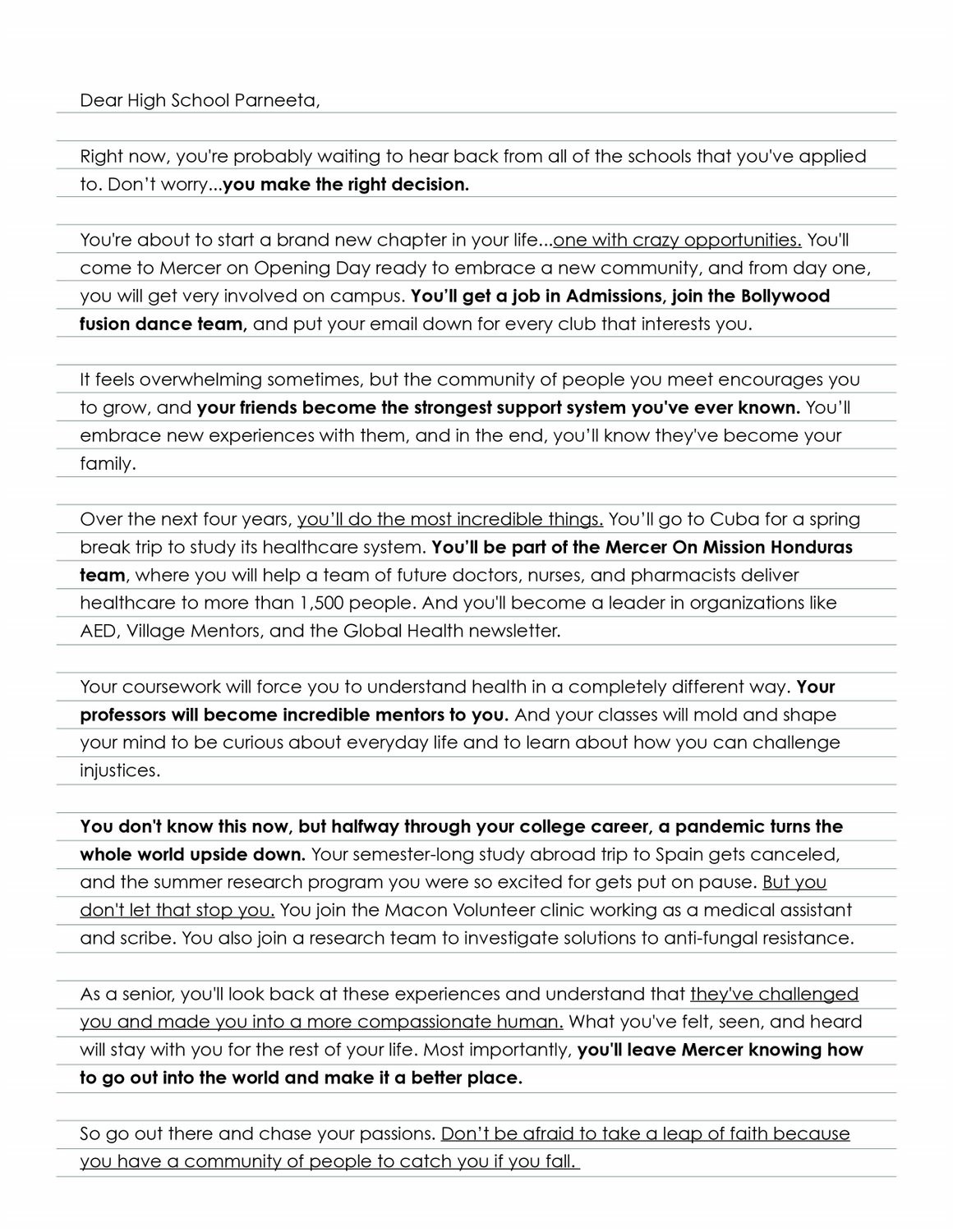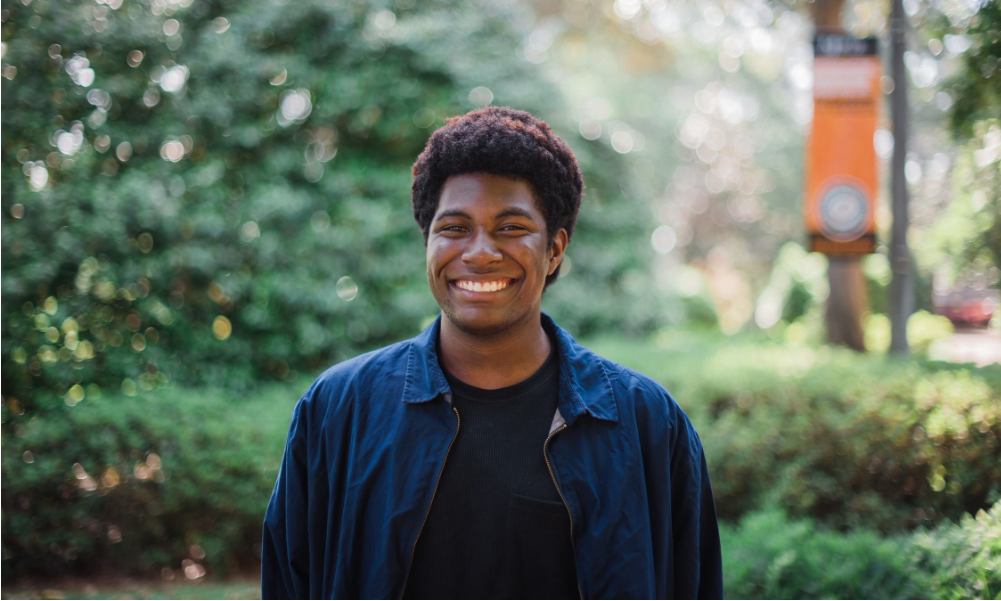 CHANCE ALLEN
Major: Journalism and Media Studies
Involvement: Admissions Special Events Team, African Students Association, Leadership Mercer, Mercer Association of Black Journalists, Mercer Social Media Ambassador, and The Cluster student newspaper
Plans after graduation: I will be moving to Los Angeles, California, to work for NBC.
"There are endless opportunities for you at Mercer, and it's a decision that you'll never regret."
Letter to High School Chance: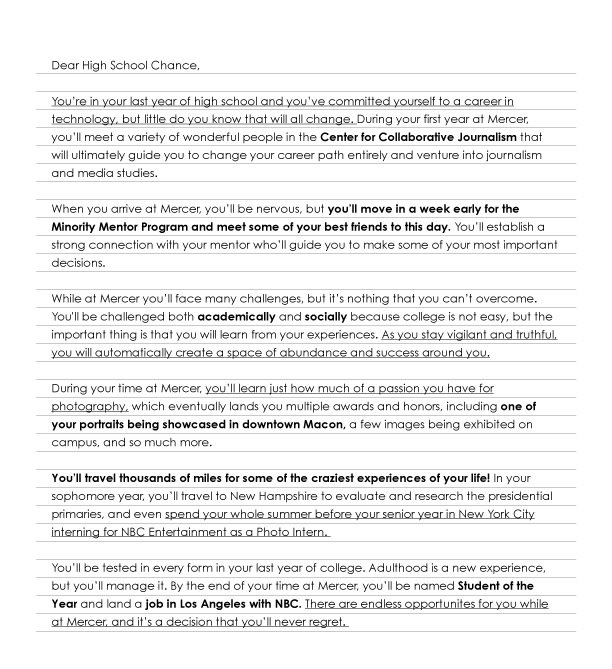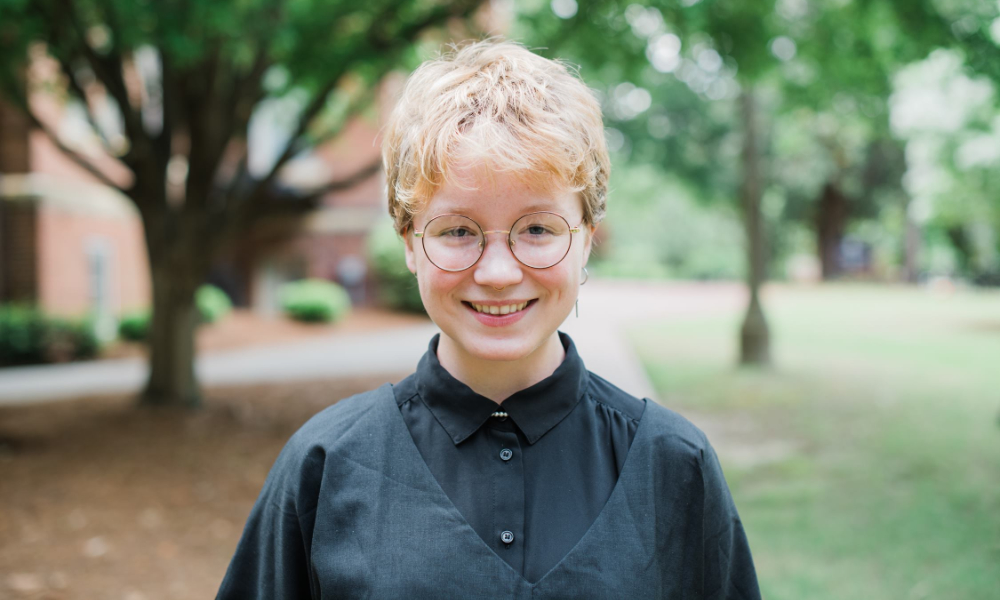 IVY CLARKE
Major: Creative Writing and Literature
Involvement: The Cluster student newspaper, The Dulcimer literary magazine, and Unite for Gender and Reproductive Equity (URGE)
Plans after graduation: This summer, I'll be an editorial intern with Sinister Wisdom, freelance writing for Peachtree Corners Magazine, and the multimedia manager of Macon Magazine. I'm still looking for a career in publishing. I plan to attend grad school for creative writing in a couple years.
"You don't need to worry about having a specific passion or purpose. Mercer creates the space for you to follow all of your curiosities, so amazing, wonderful things follow."
Letter to High School Ivy: