Mercer On Mission Cambodia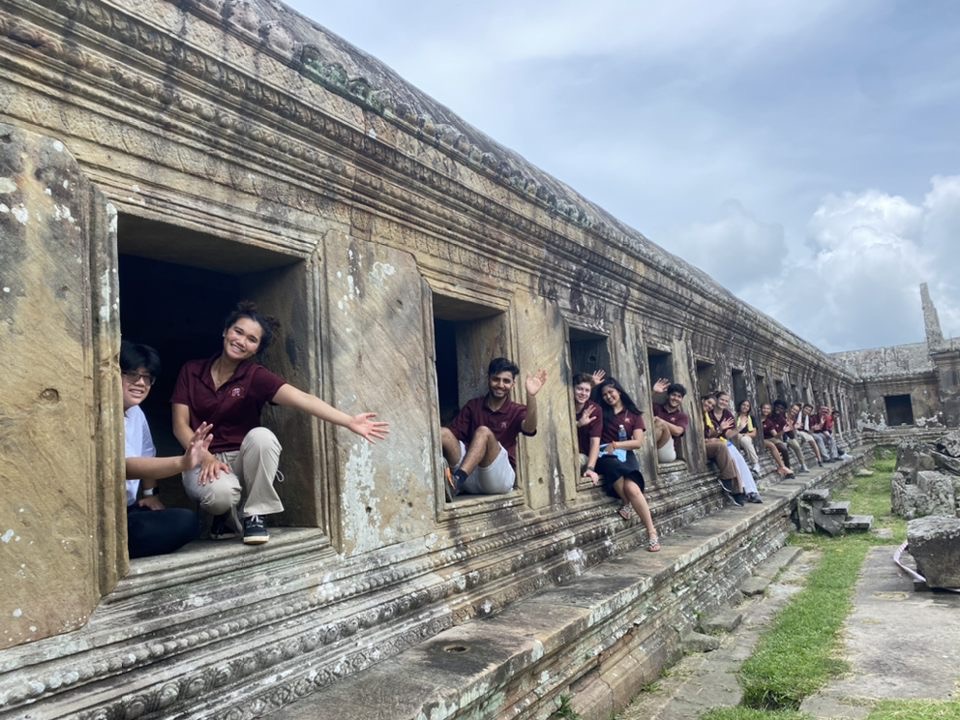 Program History
Mercer On Mission's prosthetics program in Vietnam began in 2009 when Dr. Ha Van Vo, Distinguished University Professor of Biomedical Engineering, realized a dream. As a young boy growing up in South Vietnam after the Vietnam War, he hoped to someday make a difference for his fellow citizens who lost limbs primarily from unexploded ordnance left after the war. It is estimated that there are more than 100,000 amputees in an economy that depends heavily on jobs that are difficult—if not impossible—to fulfill without the use of both legs.
Altogether, Mercer On Mission has fit around 10 percent of the amputees in Vietnam, allowing thousands of people to contribute economically, socially, and in other ways they couldn't in the past. The program is also stimulating the local economy through the creation of jobs for manufacturers and fitters. This Mercer On Mission trip has since been expanded to Cambodia where Dr. Vo and his team serve amputees in a similar fashion to the program in Vietnam.
Nyny's Story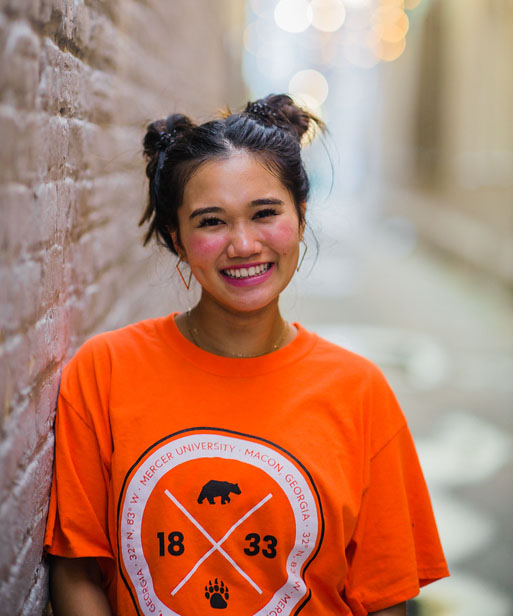 Hi, my name is Nyny, and I am majoring in biomedical engineering at Mercer. I stay busy and plugged into life at the University by being involved with Mercer's Office of University Admissions, Mercer Prosthetic and Orthotics Club, Children's Miracle Network, Chi Omega, and the Engineering Honors program. I also serve as a peer advisor to first-year students.
I chose Mercer On Mission Cambodia because it was an opportunity for me to embody Mercer's mission to empower, encourage, learn, and serve as a servant leader, student, and aspiring medical professional. I strongly believe in community and leadership. I knew serving with Dr. Vo would allow me to connect to countries abroad, engage in cultural enrichment, and improve the lives of the communities we visited by providing affordable and sustainable healthcare. Mercer On Mission is a unique program that intertwines education, service learning, and hands-on experience to help us grow as students and have a vision for the world's future.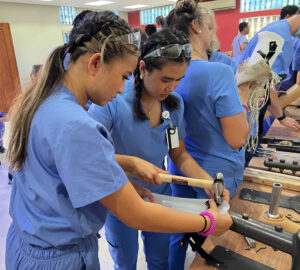 While assisting patients at the clinic, I helped take vitals such as heart rate, blood pressure, and glucose levels at the beginning of our fitting process. Then, after we assembled the prosthetic socket, we measured limb length, muscle strength, and flexibility of both lower extremities. These measurements allowed us to mold each patient's prosthetic socket to serve their unique needs.
Interacting with the patients each day helped me understand the importance of biomechanics in everyday life and how medical professionals can resolve any disruptions through engineering. I define engineering as identifying a problem and the best possible solutions with the available resources. Every patient required a different approach to building their prosthetic, and each student had to utilize their engineering knowledge and skills to treat the patient to the best of their ability.
While staying in Cambodia, we were accompanied by student doctors from Phnom Penh, the nation's capital, who worked as translators and helped bridge the cultural gap between the patients and us. The student doctors also taught us what life in Cambodia was like regarding education, family, and history.
Working with the patients every day helped me see how resilient people are when working past injuries, disparity, and political distress to build up their culture and community. I admired how our patients cared for their families despite being in pain and the strength they found in themselves to improve their lives. Some people traveled over four hours to visit our clinic to improve either their own or their child's quality of life. Having people committed to serving in rural areas would help reduce the inequality of healthcare globally.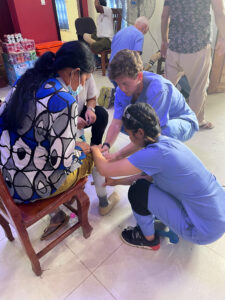 My time in Cambodia helped to reinforce my decision to pursue a medical career, and I would not hesitate to return to serve the community in Cambodia for longer. My only goal every day was to provide the best prosthetics I could. I found talking to the little kids outside the clinic and seeing our patients walk for the first time in a long time—or ever—to be very fulfilling. Medicine is more than just a job; it's building a trustworthy connection between the patient and me.
I met one patient who lost his left leg due to inadequate health care after a motorcycle accident and had to travel to Thailand to get needed surgery. After learning his story, I understood better the disparity between health standards in developing and developed countries.
Talking to some doctors, I learned many wealthy people in Cambodia are plastic surgeons, and women in medicine are highly encouraged to become cosmetic plastic surgeons because of the glamor of the job. I realized that skewing many people in this direction limits where certain surgeons work. During my time in Cambodia, I saw the need for better access to medicine in rural areas and want to work in underserved areas to provide medical care and help rebuild trust in both medicine and doctors.