Business, Engineering,
and Technology Preview
Learn about Mercer's degree options in business, engineering, and technology; tour labs; and connect with current students to learn about student organizations and research.
SAMPLE SCHEDULE
9:00 a.m.
Welcome
10:00 a.m.
Academic Session 1
10:40 a.m.
Academic Session 2
11:20 a.m.
Lab Tours
12:00 p.m.
Lunch and Walking Campus Tours
12:45 p.m.
Afternoon Session 1
1:20 p.m.
Afternoon Session 2
Learn More
Academic Offerings

College of Liberal Arts and Sciences
The College of Liberal Arts and Sciences offers majors in over 30 areas of study, including more than a dozen pre-professional academic tracks, with classes taught by an outstanding faculty of scholars.

School of Business
Mercer's School of Business delivers career-focused business education in order to develop innovative leaders who are responsible global citizens. Accredited by the prestigious Association to Advance Collegiate Schools of Business (AACSB), the school is widely recognized for innovative academic programs and accomplished faculty.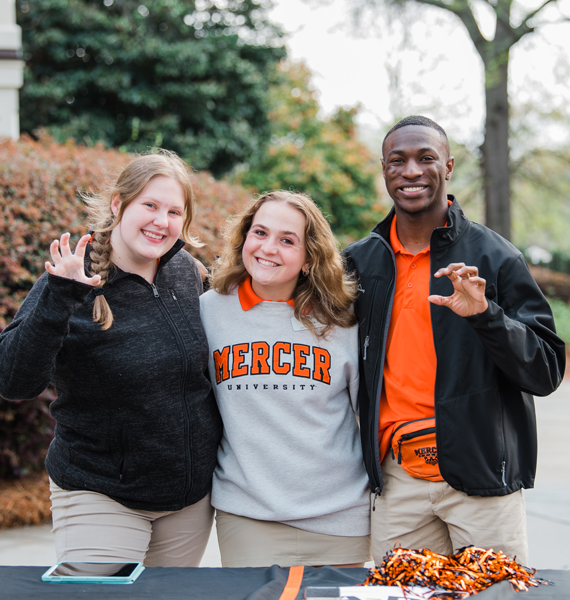 Meet our Tour Guides
Connect with current Mercer students, learn more about our hometown, and meet our tour guides!
Frequently Asked Questions
Can I bring guests?
Absolutely! Each student may bring up to two guests. If another high school student is planning to attend with you, we ask that they register as well.
What should I wear?
You will be walking around campus throughout the day, so we recommend comfortable shoes and casual clothes. Since you will be inside and outside, we encourage you to check the weather before you come.
Will there be lunch?
Yes! We will provide a complimentary lunch for you and your guests.
Where should I park?
Parking will vary for each event, so check your email leading up to the event for detailed parking information. Also, when you arrive on campus, our student staff will be in orange polos and will direct you to your parking destination.
What will I see on the tour?
The campus tour gives you a student's perspective on life at Mercer. You'll see everything from our dining facilities to the fitness center, our historic Quad, Mercer Village, Cruz Plaza, and the new science center.