Engineering Scholarship Challenge
Experience how Mercer Engineering is different by design. This scholarship challenge is open to students interested in pursuing a major in Mercer's School of Engineering. While on campus, students will have the opportunity to earn scholarships by demonstrating their math and verbal skills by completing a standardized test. In addition to the challenge, students will be able to meet Engineering faculty and students, tour labs and facilities, and tour our campus.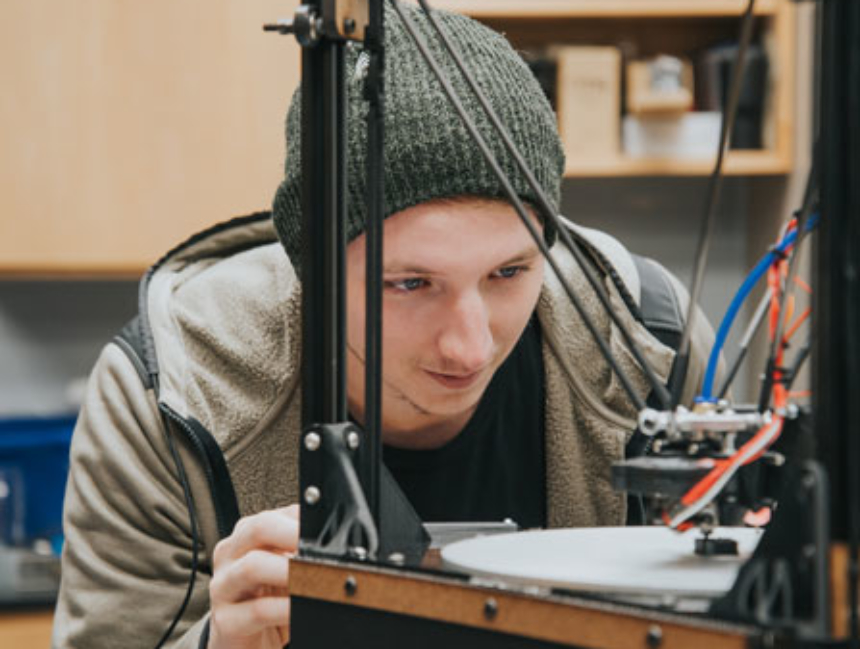 COVID-19 UPDATE
To help protect the health of our students, faculty, staff, and guests, we are requiring all guests to participate in temperature checks upon arrival and wear face coverings at all times during your visit. For more information, visit our updated campus visitation policies.
MORNING SESSION
8:00 a.m.
Check-In/Breakfast
8:15 a.m.
Welcome
8:30 a.m.
Engineering & Technical Communications Exam
9:45 a.m.
Lab Tours
11:00 a.m.
Admissions Presentation & Campus Tour
12:15 p.m.
Conclusion
AFTERNOON SESSION
11:30 a.m.
Check-In/Lunch
12:15 p.m.
Welcome
12:30 p.m.
Engineering & Technical Communications Exam
1:45 p.m.
Lab Tours
3:00 p.m.
Admissions Presentation & Campus Tour
4:15 p.m.
Conclusion
Frequently Asked Questions
Can I bring guests?
Absolutely! Each student may bring one guest, such as a parent or guardian.
What should I wear?
You will be meeting engineering faculty as well as walking around campus throughout the day, so we recommend comfortable shoes and something dressy casual (Ex: jeans or khakis and a nice shirt or blouse). Since you will be inside and outside, check the weather before you come.
How should I prepare?
Make sure to get a good night's sleep and eat a hearty breakfast. You do not need to study for the exam portion of the day, but if you'd like, you could review mathematical concepts you haven't used recently. Remember to bring your photo ID with you.
What is on the test?
The test is a multiple choice exam designed by our Engineering faculty. The content is designed to test your math and verbal reasoning skills, similar to the SAT. Students are not permitted to bring or use a calculator, and there is no calculus on the exam.
What kind of scholarships are awarded?
Students have the opportunity to increase their merit scholarship award, ranging up to full tuition. There are a limited number of full tuition scholarships. All scholarship awards are contingent upon admission to Mercer and renewable for four years of study in the School of Engineering.
When will I receive my scholarship results?
You can expect to receive results from the weekend within 3-4 weeks after the event. You will receive official notification via a mailed letter.
Does this scholarship stack on top of the one I've already received from Mercer?
If you receive a merit scholarship offer upon admittance to Mercer, this scholarship will replace it.
Will I get to meet faculty?
Yes! Throughout the day, you will interact with faculty and students, tour our engineering labs, and hear about current projects.
Will a meal be provided?
For the morning session, breakfast will be offered before the start of the event. Lunch will be offered at the beginning of the afternoon session. If you have any dietary restrictions, please contact us in advance at 478.301.2650 or admissions@mercer.edu so we can make arrangements.
Where should I park?
Parking will vary for each event, so check your email leading up to the event for detailed parking information. Also, when you arrive on campus, our student staff will be in orange polos and will direct you to your parking destination.
What COVID precautions will be taken?
Each guest will be asked to wear a mask during their time on campus. We have also decreased sizes of the groups to ensure social distancing can be practiced. Additionally, all guests will have their temperature taken upon their arrival to the event.
What if I have mobility restrictions?
You can reach out to the Office of Admissions at 478.301.2650 or admissions@mercer.edu to arrange a golf cart to help guide you through the day.