Science and Healthcare Preview
Explore Mercer's degree programs in the science and healthcare fields, learn about undergraduate research opportunities, and begin planning your path to a career in healthcare.
SAMPLE SCHEDULE
9:00 a.m.
Welcome
10:00 a.m.
Academic Session 1
10:40 a.m.
Academic Session 2
11:20 a.m.
Lab Tours
12:00 p.m.
Lunch and Walking Campus Tours
12:45 p.m.
Afternoon Session 1
1:20 p.m.
Afternoon Session 2
LEARN MORE
ACADEMIC OFFERINGS

College of Health Professions
The College of Health Professions seeks to prepare students to improve the health and quality of life of individuals and society through excellence in teaching, research, and service.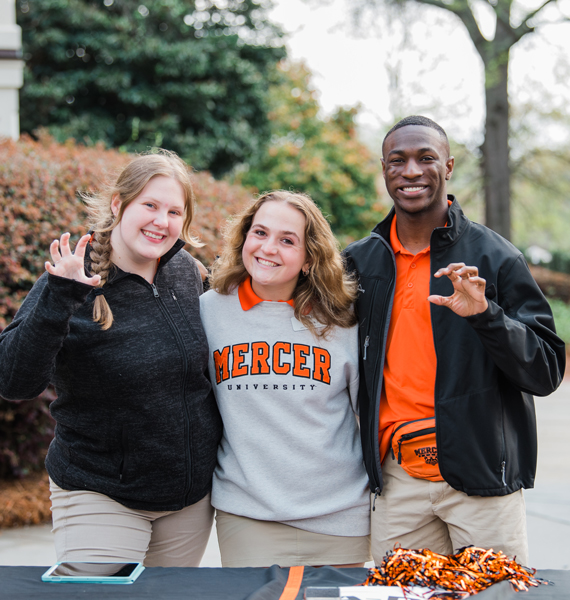 Meet our Tour Guides
Connect with current Mercer students, learn more about our hometown, and meet our tour guides!
Frequently Asked Questions
Can I bring guests?
Absolutely! Each student may bring up to two guests. If another high school student is planning to attend with you, we ask that they register as well.
What should I wear?
You will be walking around campus throughout the day, so we recommend comfortable shoes and casual clothes. Since you will be inside and outside, we encourage you to check the weather before you come.
Will there be lunch?
Yes! We will provide a complimentary lunch for you and your guests.
Where should I park?
Parking will vary for each event, so check your email leading up to the event for detailed parking information. Also, when you arrive on campus, our student staff will be in orange polos and will direct you to your parking destination.
What will I see on the tour?
The campus tour gives you a student's perspective on life at Mercer. You'll see everything from our dining facilities to the fitness center, our historic Quad, Mercer Village, Cruz Plaza, and the new science center.