Mercer On Mission - Reaching The World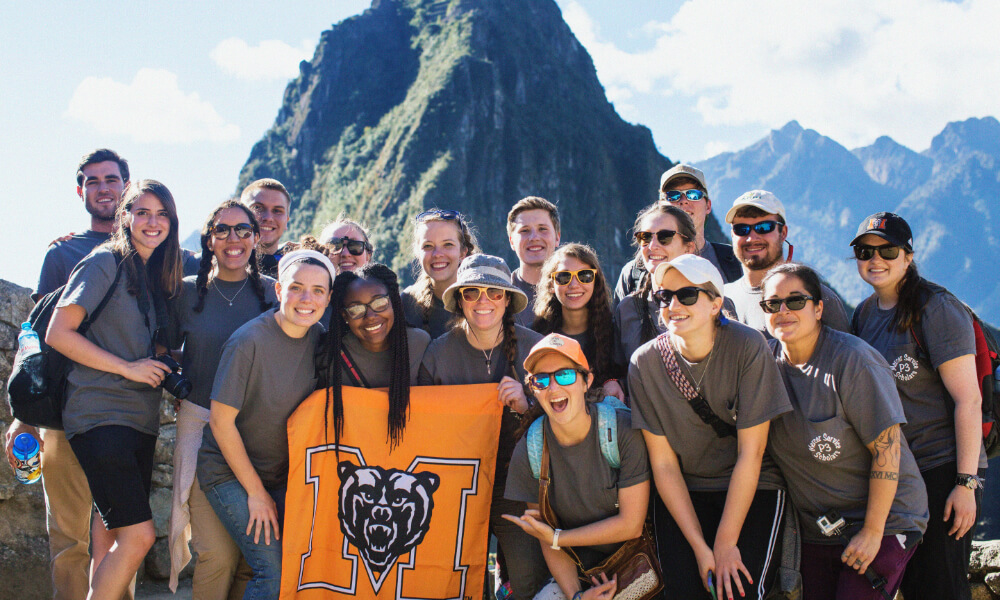 At Mercer, we believe in applying knowledge to make a lasting impact on the world. If you have a desire to travel and a heart for serving others, then Mercer On Mission (MOM) is something you will want to pursue!
MOM is typically a five-week summer program where students take two three-hour courses and then travel around the world to engage in service projects for three weeks. Over the past decade, MOM has sent over 1,200 students to more than 34 countries and 100 sites.This summer, 240 students will travel to 19 locations around the world.
Students all have the opportunity to serve, and YOU could be one of them! Here are six countries you could be helping next summer:
Kenya
Approximately 800 million people around the world don't have access to sources of clean water. The MOM trip to Sisit, Kenya, aims to tackle this issue by conducting research to improve water quality in Sub-Saharan Africa.
During their past five visits to Kenya, students have installed a water-driven turbine pump to provide clean water from the Wei Wei River, built a bridge over the river, and continued to refine their point-of-use biosand filters (BSFs), which remove up to 99 percent of the potential pathogenic material in drinking
This trip usually consists of approximately 10 engineering students and is led by Dr. LauraLackey and at least one additional Mercer faculty member. MOM Kenya plans to return to Sisit in the summer of 2018 to follow up on tests and make additional improvements to their water filters. This work in rural Kenya will serve as a pilot program for MOM's efforts to address water quality in other locations, such as the Dominican Republic.
"Working hand-in-hand with local community members teaching them how to build, operate, and maintain biosand filters taught me the importance of collaboration. I learned that there is beauty in simplicity and that water is an incredibly valuable resource that is a huge indicator of standard of living and health."

– Erin Brett, Environmental Engineering
Video by Tricia Surber
Photos by Tricia Surber & Suzy Price
India and Peru
Service Scholars, a select group of students in Mercer's Honors Program, have the opportunity to travel abroad and implement an independently designed service project. Students spend the semester studying the country, identifying problems, and working to find solutions.
In India, Scholars worked with street children and developed educational programs to improve self-esteem. They also built a fish farm, which provides locals with a fresh source of protein. In Peru, Scholars partnered with the Fuller Center for Housing and traveled to a small village called La Florida. The group worked to build housing that meets the United Nations' Sustainable Development Goals, including installing solar-powered lights.
"It was such a great experience to get to know the other students and professors on the trip! Getting to see the rich culture of Peru, the Incan people, and the historical sites was humbling and awe inspiring."

– Emily Hatchett, Global Health Studies
Tanzania
There are an estimated 437,500 children living on the streets in Tanzania as a result of violence and abuse they face at home. While living on the streets, children are susceptible to daily abuse from the police, tourists, and even each other.
On its past two visits, MOM has taken 21 students studying global health, anthropology, and international studies to Mwanza, Tanzania. During their stay, the team partnered with local agencies to address public health concerns among street children. The impact of the program continues to grow through its implementation with the following local organizations: Upendo Daima, Kivuko, Coet, Mabatini Primary Health, and Uzima Centre.Each of these charitable organizations aims to improve public health within the community and among street children. Last year, the team worked closely with the Upendo Daima to create a curriculum to teach locals how to avoid illnesses, such as malaria, cholera, HIV, and AIDS.
"This trip is different. We came to teach, and so I think for me a takeaway is definitely I enjoy doing this type of work. We come, teach, and share some knowledge that can be passed along, so I know we have a great impact."

– Ijeoma Mbaezue, Social Entrepreneurship and Biology
Video by Jave Bjorkman
Cambodia
The Mercer On Mission trip to Cambodia facilitates the opportunity for Mercer medical, pharmacy, nursing, and undergraduate students to provide hands-on medical care in underserved rural areas of Cambodia with the direction of Cambodian healthcare partners.
"Mercer On Mission offers a unique perspective that brings students from the undergrad, nursing, pharmacy, and medical schools together to work as an interdisciplinary team. Exposing usto this environment early allowed us to develop mutual respect and understanding about the different professions."

– Lyndsey Bell, Nursing
Video by Molly Curly
Photos by Mercer School of Medicine
Ecuador
Artisanal and small-scale gold mining, which is a primary source of mercury pollution, poses a serious threat on a global scale. For MOM Ecuador, a group of science and engineering students investigated mercury hot spots created from mining plants and collected data on the extent of contamination in three diverse artisanal gold mines. TheMOM team has proposed a map that will highlight the areas of mercury contamination, which will serve as a resource for the government and processing plant officials.
This summer, Mercer has deployed 46 students studying biology, chemistry, engineering, public health, business, and Spanish to build upon the University's mercury contamination work to also address new challenges with economic diversification, healthcare, and education. In the near future, Mercer plans to expand this Centers of Strength model to South Africa and the Dominican Republic.
"This trip and this experience really opened my eyes… That education can and should be used for people, not for just myself. My career, not to just make money. The opportunity I have here can be used to solve problems all over the world…My education can be something bigger than myself. I think that's what Mercer's goal is for students."

– Robert Brown, Chemical Commerce
"Going on MOM Ecuador changed my life. Not only did I have an opportunity to do impactful research in a new fi eld, but I got to experience a vibrant culture and create lasting friendships along the way!"

– Sarah Pounds, Graphic Design